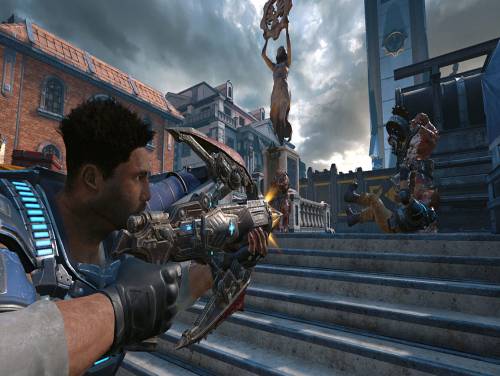 Bienvenidos a nuestras páginas, en particular a la dedicada a los trucos de Gears of War 4. ¡Sin ulteriores retrasos vamos a presentaros este artículo!
Si conoces otros desbloqueables o estrategias, no dudes en contactárnos o comentar el artículo. Lo rendirás más completo y útil para todos los visitantes.
La historia de Gears of War 4 tiene lugar 25 años después de los acontecimientos de Gears of War 3 Adam Fenix, el padre de Marcus Fenix, operado el arma contramedida para destruir la Imulsion matando a los Lambent y la Langosta. Esto condujo a la eliminación de todos los tipos de combustibles fósiles, obligó a la humanidad a adaptarse a nuevos modos de supervivencia y trajo la llegada de fuertes tormentas de viento y el fuego que devastó el planeta en la Noche. Por esta razón, la Coalición de Gobiernos, para evitar su extinción, edificó ciudades fortificadas para proteger a los ciudadanos de peligros externos. El COG declaró la ley marcial, lo que evita cualquier viaje fuera de los muros de la ciudad. Fuera de estos asentamientos han nacido de los campos de los Forasteros, a los desterrados tratando de sobrevivir en territorios hostiles y vivir fuera de la jurisdicción de la rueda de ENGRANAJE, realizando incursiones en sus territorios, para recoger recursos. El juego se centra en James Domingo Fenix, el hijo de Marcus Fenix y Anya Stroud, quien junto a sus amigos Delmont Walker y Kite Díaz, debe enfrentarse a una nueva amenaza para la supervivencia de la humanidad.
Todas las informaciones de los trucos contenidas en este artículo son válidas para Gears of War 4 desde el 11/10/2016, para las consolas PC / XBOX ONE. La lista se actualiza cada vez que el juego se publica para una nueva consola.':
Descubre variados Trucos, Consejos y Estrategias para Gears of War 4 (PC / XBOX ONE): De Protección Contra El Rayo y Mega Salud.
Gears of War 4 tiene también a disposición un Trainer promo. Si lo descargas y lo ejecutas mientras juegas, te permitirá obtener funcionalidades nuevas, normalmente trucos suplementarios que no podrías obtener de ninguna otra manera.
Al final de la página podréis leer la lista de Objetivos a conseguir para las correspondientes consolas, junto a una pequeña explicación de como alcanzarlos.
Vamos a mostraros los trucos después de la introducción que acabamos de escribir.