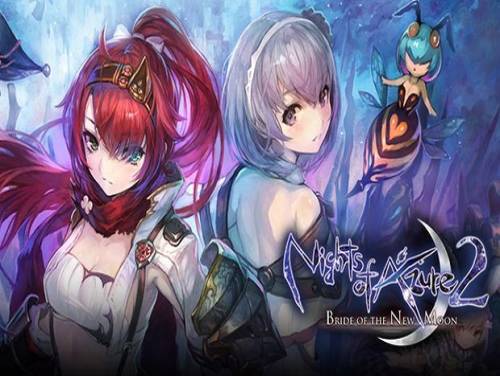 Bienvenidos a nuestras páginas, en particular a la dedicada a los trucos de Nights of Azure 2: Bride of the New Moon. ¡Sin ulteriores retrasos vamos a presentaros este artículo!
Si posees otro material no dudes en postearlo o enviárnoslo. Estaremos encantados de postearlo dentro del artículo con eventuales agradecimientos.
La historia de tres hermosas niñas. Hermosas chicas, Servan, las batallas, y un sistema de crecimiento son los elementos que volver, la mejora, en este segundo capítulo del cuento de hadas gótico RPG de acción Noches de Azure.
Nuestro material puede ser utilizado con las siguientes consolas : PC / PS4 / SWITCH. Esta lista se actualiza constantemente desde el PC / PS4 / SWITCH o sea cuando el juego ha sido lanzado.
Descubre variados Trucos, Consejos y Estrategias para Nights of Azure 2: Bride of the New Moon (PC / PS4 / SWITCH): Ilimitado Parte De La Salud y no Perseguir Ataque.
¡No solo, podemos también ofreceros la guía de este juego! Consultad la guía de Nights of Azure 2: Bride of the New Moon de apocanow,o sea una selección de videos de YouTube creada específicamente por terceros usuarios con el fin de orientar todos los otros jugadores hacia el cumplimiento del juego. A menudo las guías son también útiles para completar Objetivos y Trofeos.
¡De este juego tenemos también a disposición el trainer promo!Un trainer es un programa para PC que, si ejecutado junto al juego, te permite desbloquear muchísimos trucos.
Al final de la página también encontraréis una lista de objetivos desbloqueables de este juego con una pequeña guía.La lista es en inglés sin embargo hemos también agregado una versión traducida automaticamente para facilitar la comprensión.
Después de esta introducción sobre el juego, aquí hay los trucos que os hemos prometido.