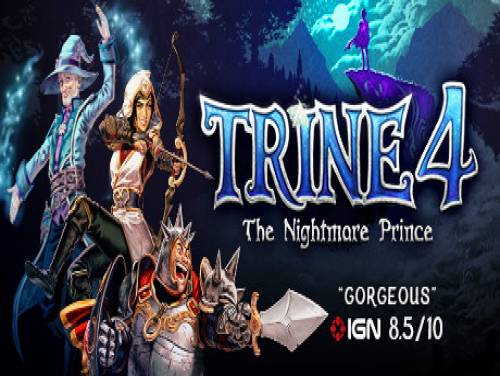 Bienvenido en el artículo de este sitio asociado con trucos desbloqueables y para el Trine 4: The Nightmare Prince Todos los secretos conocidos por nosotros acerca de este juego se escriben en esta página.
Si está en posesión de otro material no dude en publicarlo o enviarlo a nosotros estaremos encantados de publicarlo en el artículo gracias.
La serie best-seller de Trine devuelve a la magia de 2.5 D! Junto con los tres héroes icónicos tomar parte en la misión que se lleva a cabo a través de los hermosos paisajes y de cuento de hadas, y salvar al mundo de la oscuridad del Príncipe de la Pesadilla.
Los trucos que tenemos es válida para PC / PS4 / XBOX ONE / SWITCH y deben ser las vigentes ya que el juego salió, o al 8/09/2019. Nos actualizar la lista de la consola cada vez que se él agrega uno nuevo a la lista.
Descubrir Trucos y Códigos para Trine 4: The Nightmare Prince.
Trine 4: The Nightmare Prince tiene disponible también una promo Trainer Si lo descarga y ejecuta a medida que juega, obtendrá nuevas características, por lo general trucos adicionales que no se pueden obtener de otra manera.
En la parte inferior de esta página se puede leer la lista de objetivos a alcanzar para la consola correspondiente, junto con una breve explicación sobre cómo llegar a ellos.
Pasemos a mostrarte los trucos después de la introducción que acabamos de escribir.