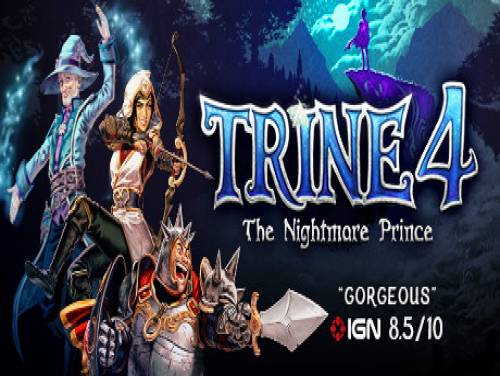 Bienvenido al artículo de este sitio asociado a los trucos y a los desbloqueables de Trine 4: The Nightmare Prince. Todos los secretos que conocemos relativos a este juego son escritos sobre esta página.
Si posees otro material no dudes en postearlo o enviárnoslo. Estaremos encantados de postearlo dentro del artículo con eventuales agradecimientos.
La serie best-seller de Trine devuelve a la magia de 2.5 D! Junto con los tres héroes icónicos tomar parte en la misión que se lleva a cabo a través de los hermosos paisajes y de cuento de hadas, y salvar al mundo de la oscuridad del Príncipe de la Pesadilla.
Los trucos que poseemos con válidos para PC / PS4 / XBOX ONE / SWITCH y tendrían que serlo desde cuando el juego ha sido lanzado, o sea el 8/09/2019. Actualizamos el listado de las consolas cada vez que se añade una nueva a la lista.
Descubre variados Trucos, Consejos y Estrategias para Trine 4: The Nightmare Prince (PC / PS4 / XBOX ONE / SWITCH): Ilimitado de salud y Super Jump.
Trine 4: The Nightmare Prince tiene también a disposición un Trainer promo. Si lo descargas y lo ejecutas mientras juegas, te permitirá obtener funcionalidades nuevas, normalmente trucos suplementarios que no podrías obtener de ninguna otra manera.
Al final de la página podréis leer la lista de Objetivos a conseguir para las correspondientes consolas, junto a una pequeña explicación de como alcanzarlos.
Vamos a mostraros los trucos después de la introducción que acabamos de escribir.