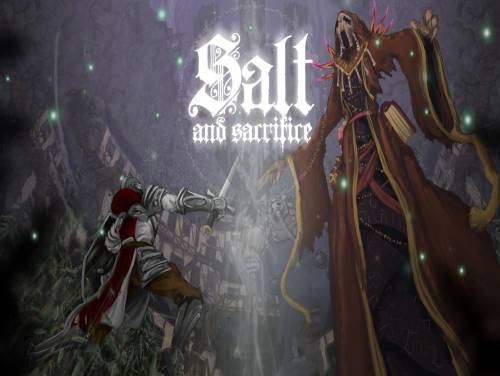 ¡Hola! Nos alegramos veros en nuestro sitio. Esta página ofrece todos los trucos y códigos que hemos podido encontrar para Salt and Sacrifice.
¿Conoces otros? Estaremos contentos de recebirlos, a fin de poderlos publicar sobre el sitio actualizando este artículo.
En Alterstone Kingdom, los criminales capturados se enfrentan a dos opciones de retribución: la muerte o el servicio. La mayoría opta por la ejecución, pero unos pocos valientes eligen vivir la vida en penitencia como Mark Inquisitors. Estos malhechores errantes cazan a los magos malvados, devorando sus corazones. para evitar que sigan aterrorizando al Reino.Personaliza el crimen, la apariencia y la clase de un inquisidor marcado. Elige una de las ocho clases iniciales: Highblade, Paladin, Assassin, Cleric, Dualist, Fighter, Ranger o Sage, luego únete al Rito Magebane. Absorbe la bebida sagrada, pronuncia las palabras. y aléjate del rito marcado por el hechizo, en un estado de flujo entre la vida y la muerte. Libres de temores mortales, los Inquisidores juran derramar la sangre de los magos para poner fin a su crueldad.
Nuestro material puede ser utilizado con las siguientes consolas : PC / PS5 / PS4. Esta lista se actualiza constantemente desde el PC / PS5 / PS4 o sea cuando el juego ha sido lanzado.
Descubre variados Trucos, Consejos y Estrategias para Salt and Sacrifice (PC / PS5 / PS4): Consejos Útiles.
¡Si queréis muchos trucos para Salt and Sacrifice es vuestro día de suerte! Tenemos a disposición un Trainer que, una vez descargado y ejecutado durante el juego, os permitirá de desbloquear muchos trucos. Podréis encontrar la lista de los trucos desbloqueables más abajo.
Al final de la página también encontraréis una lista de objetivos desbloqueables de este juego con una pequeña guía.La lista es en inglés sin embargo hemos también agregado una versión traducida automaticamente para facilitar la comprensión.
Y finalmente aquí hay los tan esperados trucos de este juego.