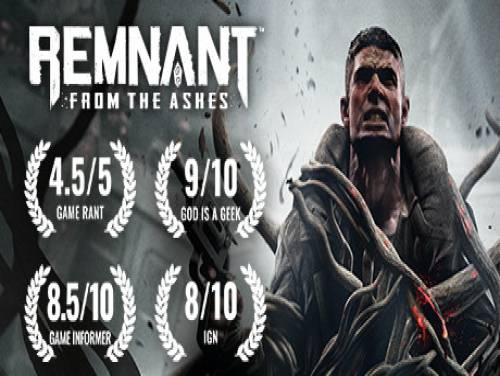 Nos complace de presentaros este artículo dedicado a los trucos y códigos de Remnant: From the Ashes. Aquí encontraréis todos los recursos que nuestra redacción ha encontrado sobre Remnant: From the Ashes, y en particular, también Trainers y Achievements.
¿Estás al corriente de otros trucos o posees otro material?¡ Envíanoslo sin ningún problema! Puedes comentar este artículo o bien contactarnos en privado y estaremos felices de actualizar la página también con el contenido del material que nos habrás enviado.
Como uno de los últimos vestigios de la humanidad, va a salir solo o junto a otros dos jugadores a lidiar con hordas de enemigos y jefes épicos, tratando de recortar una guarnición, reconstruir y, a continuación, recuperar lo que ha perdido.
Los trucos que poseemos con válidos para PC / PS4 / XBOX ONE y tendrían que serlo desde cuando el juego ha sido lanzado, o sea el 20/07/2019. Actualizamos el listado de las consolas cada vez que se añade una nueva a la lista.
Descubre 5 Trucos, Consejos y Estrategias para Remnant: From the Ashes (PC / PS4 / XBOX ONE): Ilimitado de salud y Ilimitado aguante.
Sobre este sitio es también disponible la guía de Remnant: From the Ashes: un video guía hecho de video sacados por YouTube te orientará desde el inicio hasta el final del juego y a menudo también mediante los secretos y coleccionables dentro del juego.Puedes encontrar todo esto en nuestra página oficial dedicada a la guía de Remnant: From the Ashes
Podemos también ofreceros el Trainer para este juego. En una página específica podrás descargar el Trainer de Remnant: From the Ashes, que te permitirá desbloquear nuevos trucos no desbloqueables de otro modo.
Bajo los trucos también encontraréis la Lista de los Objetivos para este juego con una pequeña explicación de como obtenerlos todos.
Gracias por leer esta pequeña introduccíon. Vamos ahora a mostrar los trucos.