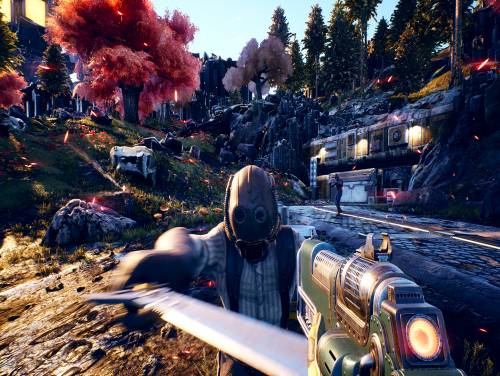 Bienvenidos a la página relativa a los trucos de The Outer Worlds. Os mostramos todo el material que hemos encontrado, siendo esto un sitio totalmente dedicado a los trucos y a las guías de videojuegos.
¡Si has encontrado nuevos secretos o códigos y quieres compartirlos, no dudes! Estamos siempre felices de poder integrar nuestro material con otro y ponerlo disponible a todos.
El Exterior de los Mundos es un nuevo Rpg de ciencia ficción desarrollado por Obsidian Entertainment y producido por la División Privada. Explorar un espacio de la colonia, que se desarrolla su personaje y le dirige a la historia. En la ecuación, las empresas han facilitado, el inesperado variable.
The Outer Worlds ha sido publicado el 01/01/2020 para PC / PS4 / XBOX ONE / SWITCH. Nos ocupamos de actualizar el listado de las consolas por el cual el juego ha sido publicado a lo largo del tiempo en el caso de que los trucos se aplicaran también a las nuevas llegadas.
Descubre 10 Trucos, Consejos y Estrategias para The Outer Worlds (PC / PS4 / XBOX ONE / SWITCH): Crear el máximo de los Puntos de atributo del personaje y La creación de personajes de Puntos de hab.
¡No solo, podemos también ofreceros la guía de este juego! Consultad la guía de The Outer Worlds de apocanow,o sea una selección de videos de YouTube creada específicamente por terceros usuarios con el fin de orientar todos los otros jugadores hacia el cumplimiento del juego. A menudo las guías son también útiles para completar Objetivos y Trofeos.
The Outer Worlds tiene también a disposición un Trainer promo. Si lo descargas y lo ejecutas mientras juegas, te permitirá obtener funcionalidades nuevas, normalmente trucos suplementarios que no podrías obtener de ninguna otra manera.
Disponible también al final del artículo la lista de los Achievements de este juego con una indicación de como desbloquearlos.
Terminadas todas las premisas, os mostramos los trucos que hemos reunido.