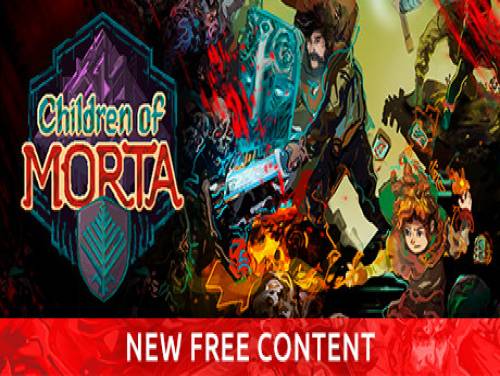 ¡Bienvenidos a Apocanow! Este artículo trata de trucos y códigos del juego Children of Morta y reúne en si todo el material videolúdico sobre este juego, en particular también Trainers, Achievements y eventuales guías.
¡Podrían no ser todos! Si has encontrado algo nuevo contáctanos o comenta este artículo y estaremos felices de añadir tu material a lo que existe todavía.
Los niños de Morta es un juego de rol y acción basado en la trama de una extraordinaria familia de héroes. Ayudar a la Bergson, con todos sus defectos y virtudes, en contra de la inminente Corrupción. Usted será capaz de sacrificar todo para salvar a la gente que te importa?
Este juego ha sido otorgado el 03/08/2019 y los trucos que poseemos son válidos para PC / PS4 / XBOX ONE / SWITCH. Este listado será actualizado en el tiempo cada vez que nos damos cuenta de la existencia de nuevas consolas sobre las cuales Children of Morta ha sido publicado.
Descubre variados Trucos, Consejos y Estrategias para Children of Morta (PC / PS4 / XBOX ONE / SWITCH): Ilimitado de salud y Ilimitado aguante.
Además de los trucos podemos ofreceros las guías de este juego bajo forma de video guía. Entra en la página de guía de Children of Morta y podrás encontrar una guía paso a paso para terminar el juego y, a menudo, también a los coleccionables del juego.
Children of Morta tiene también a disposición un Trainer promo. Si lo descargas y lo ejecutas mientras juegas, te permitirá obtener funcionalidades nuevas, normalmente trucos suplementarios que no podrías obtener de ninguna otra manera.
Bajo los trucos también encontraréis la Lista de los Objetivos para este juego con una pequeña explicación de como obtenerlos todos.
La introducción ha terminado. Aquí hay los trucos de este juego.